Providing Improved Rig Mat Performance for Projects Around the World
The Strongest Rigmat In The Industry!
Our state-of-the art manufacturing facility is efficient and highly automated, enabling us to provide quality mats for any size of job, at incredibly competitive prices. MaXXiMaT offers a wide variety of rig mat designs, including laminated, cross beam, and a patented Interlocking SAGD Mat, in a wide range of standard and custom sizes to meet every need.
As the strongest mats in the industry, MaXXiMaT's patented Maxxi-Strong™ system features folded metal to prevent bending on the edges of mats. Available in a variety of size combinations and configurations, Maxxi-Strong™ is the ideal choice for the most demanding of worksites across Alberta.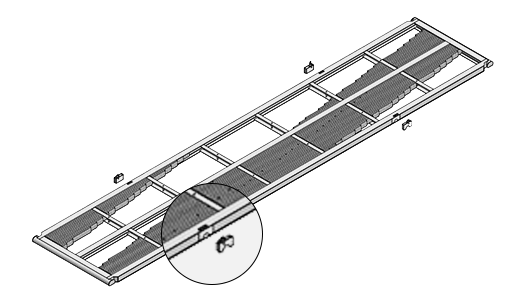 Reinforced pipe in beam (up to 70% stronger)

Reinforced lifting slot

Recessed lifting ring

Full length wooden beams
The Most Secure Interlocking Rigmat in the Industry!
MaXXiMaT manufactures and supplies rig mats to the oil, gas, and pipeline industries. Several of our key players have personally worked in the oil and gas industry for over 30 years, and know the business from the inside. We are proud of our growing list of satisfied clients across sectors, and offer experience and expertise in service rigs, wells, waste disposal, trucking, pipe slotting, pipe inspection, and pipelining. MaXXiMaT also frequently works with customers in mining, power line installation, as well as rental companies and distributors of rig, access, and crane mats.
MaXXiMaT's patented Maxxi-Lock™ rig mats are specifically designed to prevent sagging. These strong and durable mats are made only with the finest hardwood and steel components. Find out more about the unparalleled quality of our Maxxi-Lock™ rig mats, and why Maxxi-Lock™ is rapidly becoming a trusted name in the industry.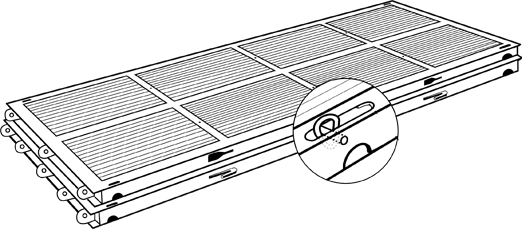 Double Plate 3″ back of slot

Reinforced Corners

Durable Metal Frame
Rig Mat Experts
Providing Rig Mats to Edmonton & Calgary, Alberta, and Internationally
MaXXiMaT is Alberta's industry leader in providing heavy-duty rig mats to our hard working customer base across Alberta, Canada, and the United States. By pairing the finest hardwood with steel components, our laminated and crossbeam rig mats can stand up to the toughest of conditions. Available in a wide variety of size combinations, our rig mats also offer easy installation. Discover today why MaXXiMaT is the first choice in rig mats for our growing list of satisfied customers.
Access Mats
Providing Access Mats to Edmonton & Calgary, Alberta, and Internationally
MaXXiMaT manufactures and distributes the strongest access mats on the market to our many satisfied clients in Fort McMurray, Nisku, Leduc, Edmonton, Calgary, and beyond. Our patented technologies ensure that they are able to withstand unbeatable weight capacities. Get in touch with our expert team regarding access mats in Edmonton today to find out how we can improve productivity and safety in—and around—your worksite.
Crane Mats
Providing Crane Mats to Edmonton & Calgary, Alberta and Internationally
MaXXiMaT's prompt service and quality products have ensured that we have a loyal client base throughout Alberta, Canada, and across the world. We are pleased to serve clients located in Grande Prairie, Fort Saskatchewan, Nisku, and Red Deer—just to name a few. We manufacture crane mats that can withstand the extreme pressures of working with heavy equipment. A successful project starts with stable and secure groundwork, which MaXXiMaT of Nisku delivers with our high quality crane mats.
Custom Mats
Providing Custom Mats to Edmonton & Calgary, Alberta, and Internationally
MaXXiMaT of Alberta manufactures an incredible range of quality mat options, including rig mats, access mats, and crane mats, for projects all around the world. If you require custom mat solutions for projects such as oilfield drilling, mining, or installing power lines, MaXXiMaT has the product that's right for you. Plus, with a wide variety of options and add-ons to choose from, we can ensure that you get the right base for your worksite, wherever it may be. Talk to our knowledgeable team today to find out more about what we can do for you.